Was Ramona Real? How a Book Became More Than a Legend

Cut to Bob Dale - An off-camera chat with the bow-tied veteran of San Diego television

Salvation Row - An uneasy Episcopalian hears the word on Imperial Avenue

Dots on the Map - Heading East on Old Highway 80

Silents Were Golden - Why early filmmakers zoomed in on San Diego

Where Wild Things Were- Something is lost when something is built

One for the Zipper- The quintessential carnival ride must bring chaos to the calm center of the soul

Deadhead Redux - No one knows for sure why Grateful Dead fans have such a drive to communicate with each other but they do-and they've turned Blair Jackson and Regan McMahon's "The Golden Road" into the most successful fanzine in the history of the form.

The Last Anniversary - An Altamont Memoir

Desolation Row -The lonesome cry of Jack Kerouac

Faster Than a Speeding Mythos: Superman at 50 - Superman at 50: The Persistence of a Legend

When Art is No Object -The Eloquent Object - At the Oakland Museum, Great Hall, through May 15.

"He Wasn't Dying to Live in L.A." - Intrepid Journalist's Last Dispatch Before His Collapse

Search for Honesty in Post-war Life - Plenty

Armageddon Averted: Where Will You be on August 16. 1987? - Inside Art Goes to the Frontiers of the Mind

Of Speckle-Faced Rats and Supernovas - Michael McClure

George Coates - The Physics of Performance and the Art of Iceskating

No Escape from the SOUNDHOUSE - Maryanne Amacher

Grants - State of Art/Art of the State

Poetry from Outside the Pale - Allen Ginsberg

Once Upon a Time - In Berkeley

The poet from Turtle Island - Gary Snyder
Noh Quarter

Joyce Jenkins and the Language Troubles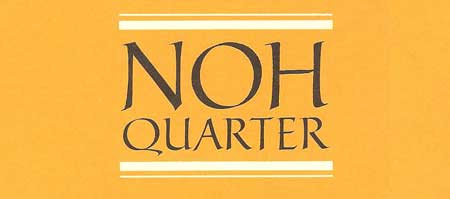 Philip Whalen
Published Quarterly (What Else) by the Noh Oratorio Society for the Purpose of Presenting Original Writings on the Spoken and Sung Word and the Performing Arts. Roger Anderson is editor of Noh Quarter

Story By ROGER ANDERSON
Volume 2 - Number 3 - Summer, 1987
In April, the beat poet Philip Whalen passed through the Bay Area like a dose of salts; it was a veritable poetry-reading rampage. Blowing into town from Dharma Saga, the Zen center near Santa Fe, New Mexico, where he lives and performs a variety of functions in his role of Zen priest, he started off with a conference on "The Poetics of Emptiness" at Green Gulch Farm, a Zen outpost in Marin, which was also attended by such poetry luminaries as Ann Waldman and Gary Snyder, Whalen's beat colleague and Reed College classmate. The conference went from April 10th to 12th, when Whalen, Waldman and Snyder traveled south to Fort Mason to read in observance of National Poetry Week, along with several other poets. On the 14th Whalen gave a well-attended solo reading at Intersection for the Arts, and on the 16th he did it again at Cody's Books. On the 19th there was a dinner and poetry reading (with Norman Fischer, yet another Zen poet and director of Green Gulch) at the Zen Center on Page Street in San Francisco. Following that, he took an airplane ride down to Santa Barbara for a reading or two, then was scheduled to double back towards Oregon for more of the same. By now, one imagines him at last safely returned to Dharma Saga, catching his breath.
In a sense, Whalen paid a visit home by coming to the Bay Area (although he originally hails from Oregon); in the '50s and '60s he lived and worked mainly in San Francisco and Berkeley and was, of course, a principal figure in the Poetry Renaissance that was in full flower at that time. He was a participant in the historic Gallery Six reading (1956) where Allen Ginsberg unveiled "Howl" (Snyder, Michael McClure, and Philip Lamantia also took part), and a great many of his poems are set in such locales as Mount Tamalpais, Land's End, and Golden Gate Park.
Of all beat poetry, Whalen's is the most flexible and at the same time the most self-conscious. Without a doubt, his friend Ginsberg (many of whose best-known poems are written expressly about himself and his famous friends) is no slouch in the self-consciousness department. But Whalen takes the prize when it comes to breaking off in the middle of a poem to take a hilariously dissociated look at what he's doing. Otherwise, his verse is as articulated and limber as a champion sailboat or a highly evolved primate (homo sapiens, say) - he suits everything to the occasion, and keeps his rhythmic, typographic, organizational, and diction options open not just from poem to poem but from line to line. With a thorough grounding in everything from classic Chinese poetry to the Elizabethans to Ezra Pound, he wears this impressive learning with an offhand, informal air that permits every reader to come near; when his poetry is at its most "difficult," it isn't because he's being esoteric - it's because he's having a whole lot of fun.
As far as I could tell, Whalen passed through his Bay Area sojourn in the most gentle, bemused, indeed Zen-like way. After being introduced to the packed upper room at Cody's, he slowly got to his feet and ambled to the podium. Once there, he read in a dry, thoughtful voice sometimes reminiscent of William Burroughs' reedy deadpan. Now in his sixties, with shaved head and a figure that's grown much trimmer of late (in his earlier poems he often humorously bewails his fatness), he occasionally became so preoccupied with his material that his head sank toward the page, his glasses slipped down on his nose and ears, and people had a bit of trouble hearing him. Afterwards, he chatted with old acquaintances in a gracious and leisurely way, and even had the patience to gratify an impertinent journalist's request for a breakfast interview a few days later.

We went into the busy, early-morning cafe and ordered omelets. The waiter scurried around filling our coffee cups. I said, "One thing that fascinates me about your work is the resemblance it has to the taking of notes - a student's or naturalist's."

Whalen thought for a moment. "Well, I'll tell you. The difference between my writing a poem and this fellow" - he indicated the waiter - "making up his list of things to do, 'call mother' and stuff like that, is that I've been doing it longer, and what I look at and notice aren't usually what he's going to notice. And because of the long practice I've had with taking notes and whatnot, I know which observations are interesting, and sometimes I'm willing to take a chance on something being interesting. Of course, sometimes it doesn't work. It's also a matter of accumulation: some of the longer poems I've done took several years before I could see I had all the material I needed."
"Yet some of the shorter and mid-length poems are composed in one day?"
"Yeah. Sometimes you're lucky; you can get everything you need in about ten lines, and all you have to do is change a couple of words or some of the punctuation. Other times you get a mass of stuff all at once, and you have to cut and cut and rearrange it, and put it away and let it rest awhile. Everything depends on the size and shape you want for the piece, and on what Ginsberg used to call the ellipse. There's a kind of voltage that makes the leap from one thing to another - or not, as sometimes happens. It's as Ginsberg says: 'Mind is shapely, art is shapely.' It's either what Whitman called personality - your life, your identity - or it's just lunacy; I don't know. But it's usually interesting at the time. The main thing is you try to handle these charges so that they make a synaptic leap, and there's always some undercurrent of thinking or feeling or being that carries it."

Our omelets arrived, and additional coffee appeared in our cups. Whalen spread butter on an English muffin. "I like Pound's comment," he continued, "which goes something like this: If John D. Rockefeller writes a check for a million dollars, everybody understands that it's real; if I write a check for a million dollars, everybody laughs. In other words, there's somebody backing up the words in the poem - and people can call you on it.
"In the light of the amount of work I put some of these poems through," he went on, "I can't really claim to be doing 'spontaneous bop prosody,' as Kerouac recommended. After all, one of my poems is called 'Many Pages Must Be Thrown Away.' Of course, I don't throw away enough, according to some people."
"For instance."
"Old friends, mostly."
"Old friends can be rough sometimes."
"That's their job!" He poured cream into his coffee. "You depend on 'em to tell you if you don't have sense enough yourself to see what you're doing, if you don't have what Mr. Hemingway called the built-in bullshit detector."
He went after his omelet, then remarked on my copy of Two Novels, a 1985 Zephyr Press reprint of his You Didn't Even Try and Imaginary Speeches of a Brazen Head, tragi­comedies of manners set in the literary-bohemian worlds of the Bay Area. "When I was young I thought I wanted to be a novelist and write books and make money," he said. "But I couldn't finish anything! I'd get a great idea for a novel; I'd start out writing four or five pages and then become terribly discouraged with how it looked and sounded, and throw it out and start over. It seemed after a while that it was easier to finish poems, so I found myself writing poems all the time while wanting to write something else. It wasn't until I was forty that I was able to make a prose book, You Didn't Even Try, which was first published in 1967.

"In Imaginary Speeches [1972], I wanted to break up the time sequence. I don't know why I thought it was necessary and interesting, but I wanted to make it so that everything would be happening at once. You can't do that, of course, but I wanted to do it anyhow; I wanted to make it like a ball you can turn around and look at on all sides. I don't think I accomplished that purpose, but it was fun to try.

"The last long poem I made was 'Scenes of Life in the Capital,' which is reprinted in Heavy Breathing [Four Seasons Publishing, 1983]. It took me maybe a couple of years, during which I was living in Kyoto, to get that poem together. And I was very nervous about the size and shape of it at the time I was actually working on it. I didn't want to repeat the job that William Carlos Williams had done with Paterson, or that Charles Olsen had done with Maximus; I wanted something else, and I wanted it in a much shorter compass, in a smaller number of pages, more concentrated. It took quite a while to put it together, but I finally did. A lot of it was written in notebooks while I was walking around Kyoto, sitting in coffee shops and restaurants there. Same for Imaginary Speeches, which was also written in notebooks during my stay in Kyoto."

After the waiter had taken our plates away, Whalen got on the subject of Jack Kerouac. "He had a remarkable feel for the size of something - how much of a book he would need to convey a certain story or set of feelings or changes of feeling. Nobody else has been able to do that since Flaubert and Balzac. Kerouac read a great deal more and knew a great deal more about literature than anybody ever gave him credit for; like Balzac, the idea of having an interconnected series of novels was behind all the books he wrote. He was coming out of Thomas Wolfe and out of the French writers - and out of the bottom of his own socks. But his language is much plainer and more precise then Wolfe's. Wolfe orated and billowed, and it was quite wonderful in its way; but Kerouac had all these Gallic genes. He wanted to rave and holler, and he did - in books like Mexico City Blues or Visions of Neal, or when he would get wound up in those long dithyrambs in On the Road. In my opinion, his whole objective was to do these exact pieces in very specific shapes: The Subterraneans, Tristessa, Maggie Cassidy."

Whalen has extraordinary credentials to make such statements, since he was not only a close friend of Kerouac's but appeared as a character in The Dharma Bums, Desolation Angels, and Big Sur. "Jack's mother was a marvelous woman," he remembered. "The second time Jack was hanging around Berkeley, his mother came out to join him; I was living in a cottage on Milvia Street and they had an apartment in a big old Victorian house on Milvia and Berkeley Way. She'd have me over for dinner and tell me stories about life in New Hampshire and Massachusetts with her husband. She liked to have a little whiskey after dinner and laugh a lot. Jack always said he got his narrative gift from her, and he was right. She could tell stories in a marvelous way.
"People have the damnedest ideas about Jack and his mother; and he just wanted to take care of her, because when he was traveling around the country, before he became famous, if he was broke he could always send her a telegram saying 'Send me a hundred bucks for a bus ticket, I'm coming home.' And she'd do it. And once he got there, she'd take care of him.

"She used to yell at him, though. He'd say to me, 'Well, let's go in to town, and we'll find so and so and we'll do thus and so.' And she'd say, 'Oh, Jackie, why don't you stay here? I made dinner for you, and you don't want to go out and get drunk with all those bad people. Your father told you to stay away from those people, those Jews.' And Jack would say, 'Aw, ma!' They'd yak back and forth in very simple French.

"His poetry is neglected, which is too bad because it's quite wonderful. Nobody pays any attention to it; they say, 'Oh, he's the guy who wrote those long novels that don't go anywhere.' His whole body of work has been endlessly maligned and criticized and put down, but the proof of the pudding is this: His books are still in print. He's still being read, and this shows that the critics were wrong again. That's what matters, is that people read his stuff. That's what makes the whole system work, because it's a two-way street; you write the stuff, but unless someone reads it or you recite it in public, unless there's feedback of some kind going on, it doesn't amount to much. Thousands of people have enjoyed Kerouac's books; and maybe there's a few people who have gotten something out of my books. And that sets you up; you feel good about it. You've achieved your mission.

"It's the same thing now that I'm in the monk business. There are things I can do for people, that I'm allowed to do for people, that I couldn't do before; and that makes me feel good also - when people ask me to do something like perform a ceremony or teach 'em how to meditate. It gives you a feeling of completion that's very nice."
"How long have you been in the monk business?" I asked. "I began studying in 1972 and then I was ordained in 1973, so about fourteen years."
I thought for a moment. "I'm tempted to invoke Allen Ginsberg's line: 'Poet is priest.'"
"That was Robert Duncan's idea too," Whalen remarked. "Of course, Duncan says you don't need any authorization or ordination; being a poet is being a priest, and you don't have to belong to any group. And that's true. But it's very much like that line in Lew Welch's poem 'Wobbly Rock,' which goes something like this: Someone showed it to me, and I found it for myself. That's the way it was for me. For many years I had the feeling that you didn't need teachers or authorizations for anything in Buddhism, and I was content to go along and practice by myself. But I wasn't doing it consistently. Then, when I went to Japan for the second time, in 1969, I started meditating at home every morning without fail, for about a half hour or so. After doing that for three months, it came to me that I had questions that I would have to have a teacher answer; and I also knew that I wanted to be a monk and that I wanted to be formally ordained. And that came out of the experience of meditation; somebody shows you, and you also find it for yourself."
"So in a way," I said, "you're two priests."
He laughed. "Yeah, that's me. Maybe that's the trouble - I'm too many. On the other hand, they say two heads are better than one."