Was Ramona Real? How a Book Became More Than a Legend

Cut to Bob Dale - An off-camera chat with the bow-tied veteran of San Diego television

Salvation Row - An uneasy Episcopalian hears the word on Imperial Avenue

Dots on the Map - Heading East on Old Highway 80

Silents Were Golden - Why early filmmakers zoomed in on San Diego

Where Wild Things Were- Something is lost when something is built

One for the Zipper- The quintessential carnival ride must bring chaos to the calm center of the soul

Deadhead Redux - No one knows for sure why Grateful Dead fans have such a drive to communicate with each other but they do-and they've turned Blair Jackson and Regan McMahon's "The Golden Road" into the most successful fanzine in the history of the form.

The Last Anniversary - An Altamont Memoir

Desolation Row -The lonesome cry of Jack Kerouac

Faster Than a Speeding Mythos: Superman at 50 - Superman at 50: The Persistence of a Legend

When Art is No Object -The Eloquent Object - At the Oakland Museum, Great Hall, through May 15.

"He Wasn't Dying to Live in L.A." - Intrepid Journalist's Last Dispatch Before His Collapse

Search for Honesty in Post-war Life - Plenty

Armageddon Averted: Where Will You be on August 16. 1987? - Inside Art Goes to the Frontiers of the Mind

Of Speckle-Faced Rats and Supernovas - Michael McClure

George Coates - The Physics of Performance and the Art of Iceskating

No Escape from the SOUNDHOUSE - Maryanne Amacher

Grants - State of Art/Art of the State

Poetry from Outside the Pale - Allen Ginsberg

Once Upon a Time - In Berkeley

The poet from Turtle Island - Gary Snyder
Noh Quarter

Joyce Jenkins and the Language Troubles


When Art is No Object
THE ELOQUENT OBJECT
At the Oakland Museum, Great Hall, through May 15.
Story By ROGER ANDERSON
April 22,1988
It's a strange fact that art exhibits these days frequently consist of about fifty parts words to maybe one part art objects. Sometimes the most you can hope for is that all those words won't actually intrude between your eyes and the objects when you're engaged in viewing. At the moment of writing, I have on or near my desk a brochure, several press releases and fact sheets, two magazine articles, and a massive collectable volume that costs fifty bucks and contains (besides plates, etc.) easily twenty or thirty thousand words—all having to do with "The Eloquent Object," an exhibit of artworks produced via crafts techniques, now showing in the Great Hall of the Oakland museum through May 15.

I would rather have this seemingly endless explication on or near
my desk than see it plastered all over the museum's walls while I'm trying to get a grip on just what the disparate welter of methodologies, aesthetic theories, emotional impulses, satiric subtexts, and uneven end results embodied in the show signify. But as I undertake to add my own spate of verbiage to the heap one thought contained in the show's brochure won't leave me alone: "Beginning in the late 1940s ...mass-produced goods freed crafts­people from the need to create functionally useful objects. This new­found freedom, together with new materials and processes... resulted in a broad range of expressive possibilities."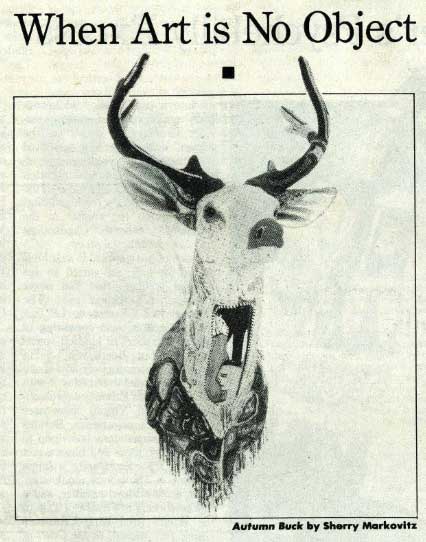 One can only describe such thinking as blithe. The picture you get is of the human race imprisoned for several thousand years by the necessity of making by hand beautiful and efficient objects to be used by hand; comes the revolution, and crafts people are "freed from the need" to turn out things that others will use in the course of boring old daily life. Now that the objects people need for negotiating physical existence are being churned out on robot assembly lines, artisans can turn into artistes and retire to the ivory tower.
Even if you don't burden yourself with all the printed exegesis, this same specious "utopian" reasoning is made manifest in the exhibit itself. The works range from straight-ahead pieces of fine art that just happen to be produced through the use of crafts methods, to jewelry and furniture that are too painstakingly and expensively wrought ever to be subjected to the hazards of actual wear or use (they were obviously made to be placed in museums and collections), to satiric and/or trompe l'oeil pieces that lampoon the very idea of functional objects. A great many of the works are—intentionally, one assumes—technically crude and lackadaisical in execution as compared to the seamless professionalism of the crafts products that made human life feasible through previous millennia. The overall effect is of school being out forever: some of the former students are using their endless summer to indulge in idle facetiousness and busywork, while a few of the better motivated ones are engaged in exploring the dreams of the human race and of their own souls.
Nothing in the show's structure or layout is going to infallibly guide you to one group or the other; there is shallowness and triviality under each of the six organizing rubrics ("The Ascendancy of Ideas," "The Rejection of Function," "Illusion," etc.), and works of true beauty are likewise indiscriminately scattered throughout. As is often the case, however, an expedient rule of thumb seems to be that the smaller the object you're looking at, the likelier you are to be looking at some­thing worthwhile—mainly, perhaps, because artists working in a small format have a better chance of staying in intimate touch with their materials. If a piece is going to take up several square yards of floor space and reach halfway to the ceiling, it better have something to say. All too frequently, it won't.
To catch sight of William Harper's "Rain Rattle" (1972) is like unexpectedly coming across a Spanish doubloon in a bed of kelp while skin-diving; you find yourself staring, letting the effect seep into your nervous system as you flirt with an aesthetic version of rapture of the deep. This ravishing object looks like a split geode to which an antler handle has been affixed, but inside the "rock" there is an image of a blue flower surrounded by gold dots and a gold circle giving off rays, all in a context of a symmetrical light and dark crystalline blue. In almost no time you move beyond the evident parallels with, and homage to, Indian ritual and feel a sense of amazement and humility at the infinitely stippled nature of created beauty that the piece incarnates. A few inches away, Harper's "Temptation of St. Anthony" (1986)—a stick-like icon wearing a bone halo and holding a tiny mirror out toward you—seduces your spirit with its deliciously out-of-plumb lines and angles and its precious densities. Probably the words that will best give a sense of the piece's effect on the eyes and mind are the technically descriptive ones that appear under the title on the exhibit placard: "Gold cloisonné enamel on fine silver with 14k and 24k gold, sterling silver, aluminum, opal, tourmaline, mirror, freshwater pearl, ivory, bone." Poetry is where you find it.

A similar yet distinct pleasure can be gained from gazing at Robert Ebendorf's three tiny "Portable Souls" (1970), which look like old cigarette tins that have been converted into personal shrines. Each pocket-sized case is open to reveal little compositions of religious or patriotic symbols (Christ, the flag, the crucifixion) set against a brass lining and ornamented with beads and medallions, while the velvet-like lining of the opposite cover bears the indentations of these details. They are unassuming, funny, and sad objects that evince a peculiar and faded loveliness.

Among the fantastic jewelry on hand is Richard Mawdsley's "Head­dress #5" (1984), a rounded rectangle of spidery gold linkages that join and thicken into a central engine-like cluster, at the center of which is a gold human face: "18k gold, titanium, tantalum garnet." You can't really imagine anyone wearing this headdress, of course, any more than you can picture shamans conducting an animist ceremony with the "rain rattle" or transients hitchhiking from town to town with Ebendorf's shrines in their jeans; so that, technically speaking, a number of the objections raised earlier might well apply. But gorgeous intrigue is its own reward, and when it comes to objects as gorgeous as these, the whys and wherefores shrink to insignificance.

On the other hand, the objections I raised to outside works apply all too thoroughly to Larry Fuente's "Oasis" (1970), one of the exhibit's most conspicuous pieces: a toilet with surrounding bathroom space all decorated with "jewels," swans, and a Byantine madonna. Other than making you think of something you might expect to buy at Liberace's estate sale, the work's only effect is to recall the old artist/Bohemian ridicule of Americans' bourgeois preoccupation with personal cleanliness. Dated and trivial, it takes up a hell of a lot of space to boot.
But, truth to tell, some of the other larger works do justify
the displacement of all those oxygen molecules. Terry Rothenberg's "Untitled" (1982)—a minimalist human effigy in black painted cow­hide that hangs, head tragically bowed, on a wall—is almost too funereal and dreadful to be borne; seeing it is like coming across a corpse on a sidewalk. With its bondage overtones, it calls up frightening sexual associations as well. Two works by Stephen DeStaebler­"Seated Figure with Striped Right Arm" (1984) and "Seated Figure with Yellow Flame" (1985)—also conjure disturbing perceptions of the human body and the unfathomable soul it contains. Made out of joined sections of fired clay, the two pieces look at fast glance like eroded groupings of desert sandstone; upon closer inspection, they reveal human lineaments and remind you of fossilized skeletons from some forgotten dynastic ritual, or of demigods hallucinated in the wilderness.

The spirit of the desert also lives in what is perhaps the single most effective large work in the exhibit. Resting near the entrance to the Great Hall, John Mason's glazed stoneware "Desert Cross" (1963) looks like a core sample ripped at random out of sun-baked mudflat. The "cross" here is clearly not the cross of Christ but the "X marks the spot" of geographical particularity. What is located is no obvious treasure of gold and pearls; rather, the whole heavy planet seems to speak in microcosm. You can almost feel the sun beating on your skull.